If you've been following our coverage this week, you've probably noticed that 3D printing technology has heavily infiltrated the runway at this year's New York Fashion Week, which is New York City's prestigious week-long celebration of the international fashion industry. From the nano enhanced 3D printed dress designed by threeASFOUR and Travis Fitch to the Spire Dress by Alexis Walsh, NYFW 2016 has seen more 3D printing technology on display than ever before. Now, the New York-based womenswear label Ohne Titel, started by designers Alexa Adams and Flora Gill, is letting 3D printing technology strut on the catwalk once again in their Microsoft-sponsored Autumn/Winter 2016 collection. Already known in the fashion world for their unique use of knitting and crochet techniques, Ohne Titel has mixed 3D printing into their traditional design process, creating a wonderfully composed and flowing 3D printed chainmail dress.
"I love the unexpected mix of old-world and futuristic manufacturing. We looked to chainmail structures for inspiration and elongated our 'chains' to make a herringbone structure," Gill said. "It's interesting to work with 3D modelers and the printers to see what is possible."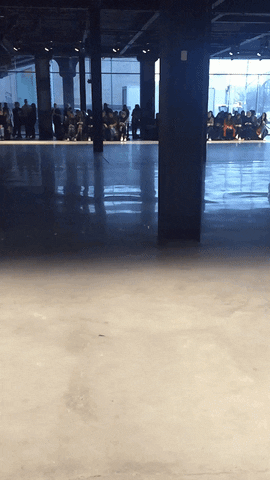 Much like Alexis Walsh's 3D printed line, Ohne Titel turned to the 3D printing technology of Shapeways to actualize the design of their dress. The dress, which was inspired by chainmail structures, was printed in Shapeways' Frosted Ultra Detail Acrylic Plastic, which is the first time that this material has been used in a fashion piece.
In order to transform their design idea into a 3D model, Ohne Titel enlisted the help of Shapeways & Eyebeam Computational Fashion Master Class graduate Chester Dols, who turned out to be an ideal match for what the design duo had in mind. The cage dress serves as proof that new and old technologies need not be considered separate worlds, as the knitting and crochet plays a crucial role in the composition of the 3D printed pieces. In fact, Ohne Titel's Flora Gill's see more similarities between knitting and 3D printing technology than one might assume.
"3D printing in some ways has limitless potential, but it is still very beta. We found many parallels with knitting technologies. In the beginning of our careers, it was usually difficult to computer program intricate knit programs," Gill said. "Now knitting machines are easily programmed and the techniques they create would have been unimaginable 10 years ago. We can't wait to see what will be possible for knitting and 3D printing in the next 10 years."
When the dress was presented at NYFW earlier this week, the Frosted Ultra Detail Acrylic Plastic was layered over black garments in order to liven up the 3D printed patterns and links. The 3D printed cage dress looked to provide flexibility, fashion, and even a sense of armored protection to the runway models.