3D Hybrid Solutions has announced it will launch a large-scale metal 3D printer at RAPID 2017 following a collaboration with CNC machining company Multiax.
Based in Philadelphia, 3D Hybrid Solutions develops additive manufacturing tools for existing CNC machinery. The joint venture, which will be unveiled in Pittsburgh during the RAPID conference, combines this expertise with Multiax's large-scale 5-axis CNC machines. Resulting in a machine which the company claims is "the world's largest metal 3D printer" with a build chamber of "500 cubic meters."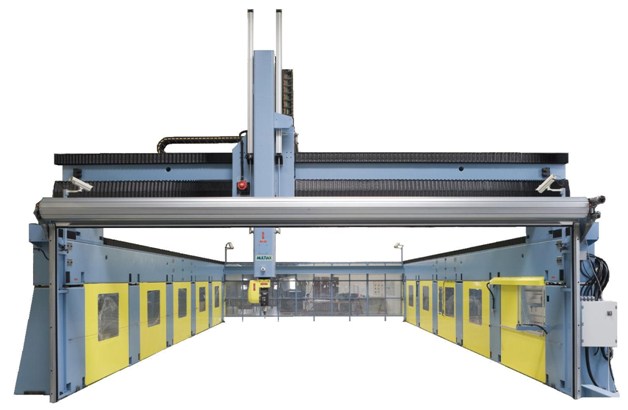 Biggest and fastest
According to 3D Hybrid Solutions, not only will the system be the largest metal 3D printer, it "will also be one of the fastest metal 3D printers with speeds beyond 20 pounds per hour." The system reportedly "offers a printable and machine-able space in excess of 500 cubic meters." 
Our proprietary deposition head technology is superior to the competition, yielding higher quality parts.
This technology can use both "Wire or Powder Feed Stock" and the company lists several applicable materials including Inconel 718, Copper "and many more." It's interesting that the company lists powder feed stock as it would be thought that the large scale device, attached to an existing CNC machine, would solely be using wire. 3D Hybrid Solutions has not yet disclosed which feed stock their "largest metal 3D printer" will use and it's expected to be revealed at the RAPID conference.
In addition to this announcement, 3D Hybrid Solutions will also launch their 'Multi-Metal Printing Tool' which will be offered to existing 5 axis CNC machines. The tool, they state, enables printing in 5-axis.
Hybrid manufacturing
By combining 3D printing technology to CNC machinery, 3D Hybrid Solutions hopes to expand the scope of the technology.
The addition of a metal printing tool to a CNC machine embraces the inherent need of post machining, but also brings with it added values such as machined internal features, 5 axis printing, and the efficient approach of printing only what is necessary.
Founder of 3D Hybrid Solutions, Karl Hranka, furthers this as he says, "Hybrid manufacturing is the future for medium to large-scale metal additive manufacturing." The combination of the two technologies, additive and CNC machining, is not a new concept as many other companies are exploring that avenue. Dutch initiative RAMLAB has recently showcased their first ship component produced using a hybrid manufacturing process.
Since most 3D printed parts do require some form of post-processing, combing additive with CNC machining is a natural concept. For this reason, Taiwaneese company,Tongtai Machine & Tool is integrating Optomec's LENS Print Engine into its hybrid machines.
3D Printing Industry will bring you more information about the printer when we visit RAPID next week.
The winners of the 3D Printing Industry Awards will be announced this month, voting is still open to decide the winners. 
For the latest 3D printer news, subscribe to our newsletter and follow us on twitter. 
Featured image shows a metal 3D printed part. Image via Laserline GmbH.