This is a guest post in our series looking at the future of 3D Printing. To celebrate 5 years of reporting on the 3D printing industry, we've invited industry leaders and 3D printing experts to give us their perspective and predictions for the next 5 years and insight into trends in additive manufacturing.
Rich Stump is the Co-Founder and Principal at FATHOM, an industry leader in advanced technology and additive manufacturing.
3D Printing: The Next 5 Years by Rich Stump
3D printing is entering into what we believe is the Prototyping 2.0 era. With newly developed materials and the maturation of various additive processes, we will see growth in the ability to prototype with actual end-use materials instead of only materials which mimic production-grade ones. This will allow for much more meaningful knowledge-gathering and upfront functional testing so less assumptions are made. Faster iterative cycles mean more time for experimentation, creativity, and ultimately, greater product functionality.
At this point, many long-held patents are expiring and this allows for more mid-range equipment solutions at lower prices. That also means lower material costs. The barrier to entry is reduced, the accessibility to these types of 3D printing methods broaden, and teams will be able to speed better products to market even faster and most cost effectively. This overall trend will drive more prototype fabrication and expedite growth in the market for 3D printing prototypes.
3D printing and additive manufacturing is also being realized further downstream in the production cycle, far past typical uses in the early stages of development. While prototyping is quickly changing, so is the means of production.
Digital Fabrication Era
We see three major trends that will continue in the age of digital fabrication during the next five years—design for additive manufacturing (DFAM), direct digital manufacturing (DDM), and hybridized manufacturing methods (blending additive with traditional).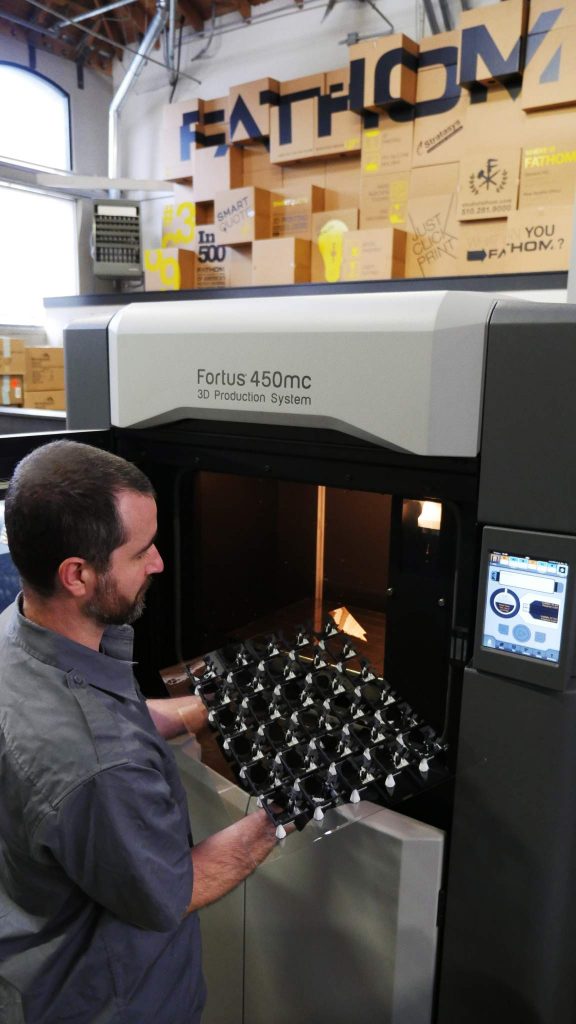 The design influence of additive manufacturing is rapidly growing. For decades, professional designers and engineers have been taught a core principle of K.I.S.S (Keep It Simple, Stupid). With the rise of enterprise 3D printing as a viable alternative for making production parts, product developers are freed from viewing all ideas through a prism of traditional manufacturing's constraints. As additive manufacturing is further adopted, designers and engineers will be considering it for final products, just as they do with foundational methods of manufacturing.
This trend has already manifested in many ways. With greater market acceptance and more prevalent educational training today, generations are entering the workforce with no aversion to DFAM (a process of embracing the advantages of additive manufacturing). They are familiar with the advantages of additive (e.g. geometry complexity, product development agility, customization, risk mitigation, rapid iterations, faster speeds, lower capital tooling costs, and higher value problem-solving) and feel comfortable with it as a serious manufacturing solution. We will continue to benefit from the growth of additive manufacturing education in schools and professional organizations. Additive, and the innovative software supporting it, provides real-world opportunities for more complex, function-specific parts, all while reducing weight, part count, assembly steps, and production time.
The fastest adoption of the DFAM mentality has occurred in the medical and aerospace industries who often deal with highly-specific and low-volume part needs—the benefits of additive are not outweighed by the need for large-scale production. But as build times shorten, new production-grade materials enter the market, and additive precision increases, DFAM will occur for other applications and industries.
Another aspect will be customization on a relatively larger scale, meaning customer-specific products at non-exclusive pricing levels. We expect to see additive technologies used to enhance consumer products with greater personalization to meet the unique demands of a specific user. For this to happen, consumers will need to get comfortable with various additive manufacturing surface finishes.
Additive manufacturing will also lower the barrier of entry for new products to enter the marketplace. Teams can introduce a product to the market in low volumes to gain customer feedback, refine designs, and create initial revenue to build from while not having to initially invest in expensive tooling. 3D printed tools, however, will be used more often because it can provide more durability and longevity than what we see today with current materials. A need for 3D printed jigs and fixtures required for assembly will increase, too.
The opportunity with DDM (a process that uses 3D printing and additive manufacturing to produce end-use parts) is ever-increasing. As standards regulating the use of additive manufacturing are further developed, we will see more widespread adoption of DDM for end-use parts and products. Adopted standards (e.g. requirements, specifications, guidelines, characteristics) of 3D printed parts and processes are a current barrier of DDM adoption. To ensure the necessary quality, safety, and performance of every part, there needs to be standards that all manufactures can follow. Gartner Research Vice President Pete Basiliere recently reported, "By 2020, nearly 65% of discrete manufactures that expect to use 3D printers will be using them to produce components of the products they sell or service." We believe this will be realized within the next five years and it will drive significant growth.
New entrants and ongoing research will continue to push the additive industry forward, resulting in improved accuracy and compressed build times. Those in material development research continue to make strides every day to meet the mechanical and thermodynamic standards designers and engineers expect for their product development. We are starting to see large material development companies put more emphasis on the additive market. These companies will eventually deliver application specific materials with better characteristics designed for AM processes.
From 2003 to 2014, the use of 3D printing and additive manufacturing for production parts grew from virtually zero to 43% ($1.8B) of global 3D printed product and service revenue. Wohler's and Associates predicts that 3D printing will eventually capture 5% of the global manufacturing capacity, which would make 3D printing a $640 billion industry.
As the power and reach of additive manufacturing continues to grow, it is also important that we don't view additive and traditional manufacturing as exclusive opportunities. As it often occurs at FATHOM, advanced technologies and foundational methods are complementary. The result is significant when those differing strengths and weaknesses augment each other. Hybridization of manufacturing processes will be a very important strategy for achieving the greatest efficiencies.
The development of complex geometries, simulation, and generative software tools will allow us to make the most of DFAM. This will enable users to optimize and realize the benefits while pushing the limits of the AM equipment and processes. In the future, we will rely less on creating actual CAD designs and more on the systems we create. With this kind of feedback-loop, designs will get smarter over time and improve at a frequent rate. One very exciting new trend is the combination of not only fabrication processes but also engineering disciplines. For example, electrical fabrication technologies and mechanical designs are coming together in one platform. Innovative 3D printing systems like the DragonFly 2020 from Nano Dimension can be used to build PCBs on-demand. While it's only capable of producing prototypes today, there is a future in using it to create production parts with embedded electronics.
When we talk about the factory of the future, it is about agnostically embracing many technologies instead of only a few, integrating automation, and enabling connected production cycles. Robotics and business intelligence will continue to play major roles, as well as 3D printing and additive manufacturing.
While many futurists have over-speculated the factory of the future and where 3D printing is going, FATHOM has been busy building one. The need for design freedom and faster speeds for product development and manufacturing is the base of everything we're focused on.
Today's consumer products are smarter, users are more empowered, and product development demands are increasing quickly. Times are changing and access to new technologies has never been easier and more cost-effective. Within the next five years, product development barriers will continue to be broken down. Additive is forever changing the ways products are designed and manufactured.
This is a guest post in our series looking at the future of 3D Printing, if you'd like to participate in this series then contact us for more information. For more insights into the 3D printing industry, sign up to our newsletter and follow our active social media channels.
Don't forget that you can vote now in the 1st annual 3D Printing Industry Awards.
Can you find more information here about FATHOM.
Featured image shows Rich Stump, FATHOM Co-Founder and Principal. Photo via FATHOM.